Ia Rā, Ia Rā
Ia ra is a song that is close to my heart. The title means, every day and again and again and I wrote it a couple of years ago thinking about the beauty of this country. The young singer is my nine year old niece with harmonies by her best friend, both student at Waterlea school in Auckland.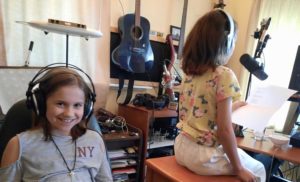 The release of the song was delayed by the hiccups of 2020, and I think the message about small hands but strong hearts is especially important right now. We all have little things we can do for each other and the wall. The end words speak of a seed, large trees. We cannot do everything – but we can do something!
Here are the beautiful Esther and Indee recording the song.